How to Get Your App Discovered in iOS 6 close
18th October 2012
The release of iOS 6 came bundled with a very different looking App Store. This has shifted the goal posts a bit on App discovery. Ryan Merket of InMobi produced a superb presentation on this subject and also included some very useful marketing tactics for app store search optimisation. In this blog post I have summarised some of the key learning but if you have time you should check out the video.
Also see our previous blog post on the basics of App Store Optimization (ASO).
Changes to the App Store in iOS 6

No more new releases section! This could really harm your new launch
Horizontal scrolling throughout with only 4 apps per row (less apps to skim)
Only the highest downloaded or grossing get featured, charts or genius
Search results are in a card format
Introduction of a Facebook like button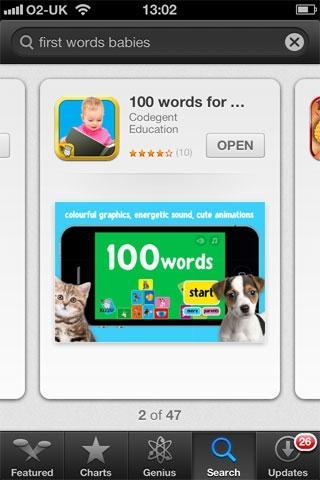 The increased importance of screenshots
As you can see from the image above the first screenshot is critical as is the icon. You need to get a lot of sales information into these graphics.
Ratings and Reviews Promoted Higher
Even more prominence is being given to ratings and reviews in both the interface and order of search results.
What's New
The notes included in the update of an app are far more critical now as they are a lot more visible. Make sure these are written up well. It is part of the sales process especially if your app has taken a pivot based on user feedback!
Introduction of Passbook
Passbook allows a user to download a 'pass' from a brand and store it centrally on their phone. This simplifies the process of keeping track of items such as tickets, boarding passes, coupons and gift cards.
This has a huge amount of potential and is ripe for early adoption. Passes can be dynamically updated and push notifications to users.
Incentivise Social Sharing via Facebook and Twitter APIs
The social APIs baked into iOS 6 are a huge opportunity for developers to help spread the word via virtual currency or unlocking special items. The APIs allow us to reference the impact of a social share such as the number of likes, comments, replies, retweets etc. Therefore a reward could be along the lines of "share this app and get x… if your post is popular you could even earn y