Online Influence of Offline Sales - ROPO close
18th September 2012
The majority of purchases still take place offline (9 out of 10) but of those 40% of consumers prefer to ROPO - research online, purchase offline.
The last 5 years have seen a huge surge in online sales and it is now believed to generate £5 trillion per annum. With that level of growth no wonder we have all spent so much time optimising checkout flows, basket upsells, price points, landing pages, email marketing, coupons and social media buzz to flog as many products online as possible. But this equates to only half the story if we forget to account for the role of online in influencing offline spend.
Why do people ROPO?
Probably the most obvious case for ROPO is the example of buying a car. Ten years ago research would probably have been done via car magazines and dealership visits. Now you would almost certainly go online first to absorb the vast amount of reviews, opinions, images, videos, price guides and statistics on offer. But you would never actually buy the car online without a test drive would you?
The same would apply to houses and other big ticket purchases. But recent statistics also show us that lower category; less considered purchases are researched online with equal enthusiasm. The primary difference being the length of time that period of research lasts.
Aside from the pervading issues of trust and usability that will still put off some people from spending online the main reasons cited for ROPO on lower ticket goods were wanting to actually see the product (41%) and the satisfaction of having it immediately available (51%).
Here is some more interesting data on the triggers and reasons behind ROPO: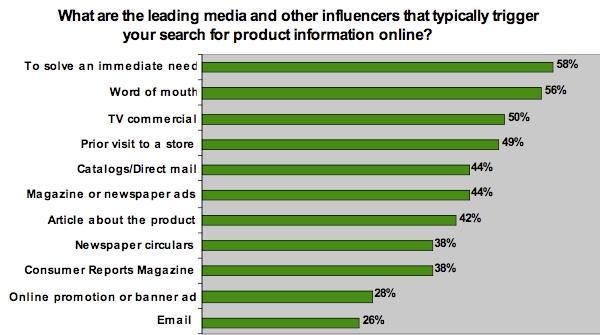 Are they willing to spend?
Yes. ROPO users are serious. They number 7.6 searches on average compared to 9.2 searches from users who actually then convert online. This translates even more powerfully into the physical store with ROPO customers statistically spending 33% more than those who had done no previous research.
What can retailers do to harness the ROPO effect?
Just last week Burberry redesigned their flagship London store to better resemble their website. But here are a few more straightforward practical tips:
Try segmenting search campaigns for mobile and non-mobile. The use cases for those searching for product information via mobile are more likely to be ROPO oriented. At least until mobile payment systems catch up.
Build SEO or PPC campaigns around specific product information such as model names and numbers. This should be low cost and less competitive as well as being neatly targeted. Remember to include common typos, especially for mobile! Check out the Typo Generator for assistance.
Use mobile coupons. Accenture reported that 8 out of 10 smartphone users are receptive to receiving offers via their phone. This will also help you track the ROPO effect.
Cultivate product reviews from your audience and produce comparison tables and blog posts. These should index highly for ROPO users.
Make it simple for a user to print, bookmark and remember the product page on your site and make sure they can find your stores or stockists easily! As well as these ensure you have accurate contact numbers, addresses, map links and opening times listed.
Consider allowing users to schedule appointments with in-store consultants from your website.
Show store stock availability on your website. Also allow for high demand items to be reserved.
Include free Wi-Fi on your premises and don't make it hard to join the network! You can then redirect the user to your mobile site on launch of their browser.
Have you thought about the impact of ROPO on your business? As ever, I welcome your thoughts in the comments below.
Sources: