Better Digital Design: Building Flexibility into Process close
20th June 2013
It has been a busy time at Codegent over the last few months. We have been doing some really good work for big brands like Radioplayer, Microsoft, and British Airways and it's got to the point where we felt it was time to give the codegent site and brand a refresh.
We have started to redesign our website using a slightly different process from what we are used to when working with clients. One big difference, obviously, is there is no paying, external client but it was more in the way we've approached the design that differed from the norm.
On any new project the whole team work very collaboratively in coming up with answers to the brief and are in contact throughout the whole process with the client in update meetings, conference calls etc. to show how we are progressing and for the client to give feedback at different stages.
The way we are working on our own site is similar but the main difference is that although we are working towards a goal but we are not quite sure exactly what it is yet, and that's ok. We have wireframes and designs to work from but we are deciding things as we go. It's a simultaneous design, UX and tech challenge.
The benefit is that we are solving problems as they occur and responding to how something looks or moves by adding or stripping features and gradually getting to a better state, surpassing our expectations and pushing boundaries. It also means we won't let ourselves down by not executing on a grand vision that just didn't quite work out as well as it did in our minds.
Good ideas are rarely 100% formed up front. We don't have to promise ourselves it will definitely work, we can just try and see how it goes. Typically things evolve for the better as they take shape and become refined into simple, elegant executions... or they get ditched.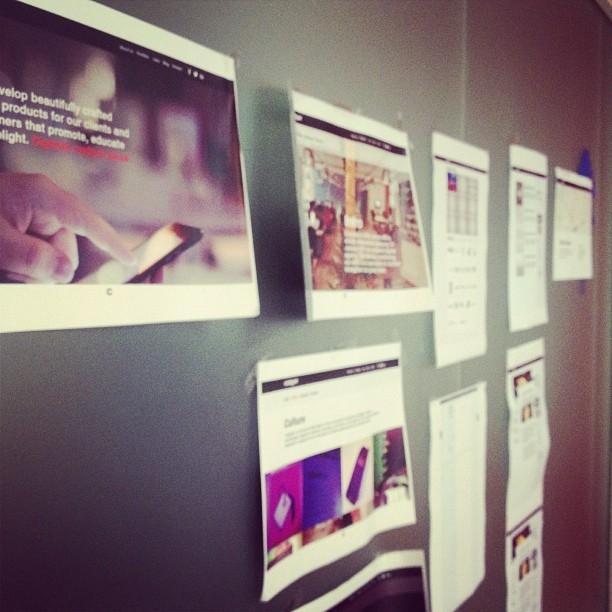 With clients you are typically working with a set budget, time frame and the reality that they have to sell the idea into further stakeholders. Therefore the role of the agency is to be very clear and realistic upfront about what to expect. I think if we said that we knew what the client needed but didn't know exactly what it would look like or even be until the end I imagine most would be a bit concerned!
Another reason working on our own site is proving successful is because we are all in the same office and the people designing and developing the site are in constant face to face contact. Again, this is quite impractical for external projects but it strikes me that a lot of the valuable relationship management time spent by both agency and client is wasted honing precise documentation, flat designs & timeplans which are essentially predictions of a partially unknown future outcome. If these deliverables were broken down (or even cast aside) and that time was spent more collaboratively with smaller more regular interactions the results would definitely be better.
However, in order for this to work in a client / agency relationship you need to both be brave and to trust each other. Trust should be earned and deeply respected by both sides. It is also our role to try and push for these new ways of working and educate, by example, on why this is a better route. Typically we do actually begin to see this manifest itself more on the second or third engagement as greater trust and working patterns naturally form. But rarely to extent described above.
Within our industry we do know that, behind the scenes, all the best campaigns that are regularly cited in pitches and meetings as aspirational benchmarks were done in this way. By being brave and trusting all those involved you foster the right environment for something beautiful to happen.
The site will be ready by the end of the Summer. I guess the proof will be in the pudding!