I couldn't live without... Songkick close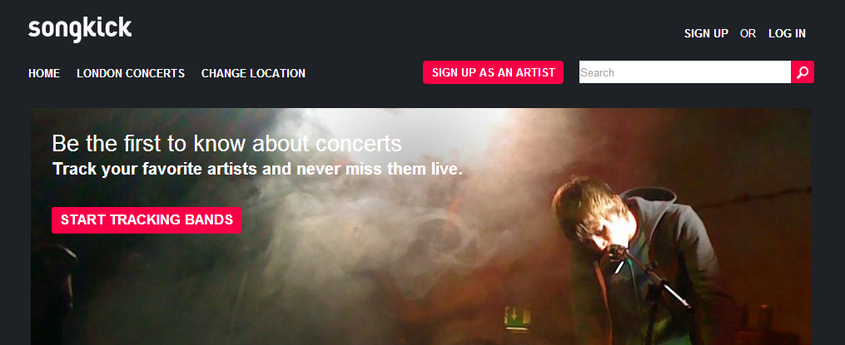 What couldn't you live without?
Songkick - a website that helps you manage your gigs.
In a nutshell, what is it?
Songkick allows you to track your favorite bands and artists and sends you an alert by email when they're playing in your area. It also gives info about the venue and provides you with links to buy tickets online.
Why does it rock your world?
I never miss a gig anymore! I'm informed in advance about the events I care about, and can get ready for the day tickets are being sold.
What's your favourite feature?
Tracking artists one by one can be a painful process. Fortunately, the website comes with several applications and uses external APIs to make life easier. If you're a Last.fm or Pandora user you can enter your username and import all the artists you listen to in one click. Songkick also tracks bands from any Facebook pages you liked, your iTunes library and your music on Spotify if you install the ad hoc applications.
What makes it unique?
Its simplicity. Focus is put on the user experience. They introduced the possibility to buy certain tickets directly from the website quite recently and send you an email as soon as they are available. In that case, buying a ticket is done in 3 clicks. All you have to do is print the email or present the barcode on your phone at the venue entry and that's it.
Does anything let it down?
It doesn't tell you when one event clashes with another. I go to a lot of gigs and I've already managed to buy tickets for two different shows happening on the same night. But I'm confident that the Songkick team will address this sooner or later as UX improvements are being made almost on a monthly basis.
Any secret tips for new converts?
Scan your music often so that you don't miss anything.
Where can I find it and can I afford it?
The website and applications are completely free - you still have to buy the tickets though!